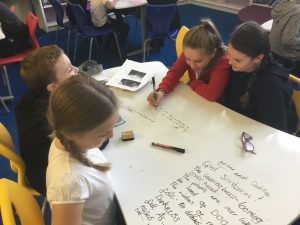 In Year 5 we have been using the new whiteboard tables to write about an abandoned theme park.
Here are some of our favourite sentences:
The forbidden city of silence and stillness…
Who dares to go on this ride?
It burnt to ash,
Only vultures dare to walk these gloomy grounds.
It was once beautiful and colourful.
Nara Dreamland, that of myth and legend, has a legacy that will live forever more.
Despite this, the ghouls and souls of horses and children still roam the forgotten park.
The towering beast waits for his destiny, impatiently until his death!
The rides of rust and fate.
Maybe this motionless monster will thrive once again.
The bird of death, circling high this day.
The derelict, lion grandad is coaster-broken.
A haunted portal, which takes you to your nightmare!