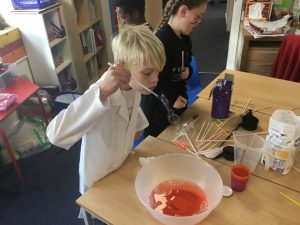 On potions day, we were all in different groups doing lots of fun activities. During the day we had our photos taken with a special photo frame border.
After we had our photos taken we made slime using glue, contact lens solution, shaving foam and bicarbonate of soda. Each group used food colouring to make their slime a different colour. We made Oobleck which is made out of cornflour and warm water. When you picked the Oobleck up and played with it, it was a solid and when you opened your hand flat it turned into a liquid.
We have been investigating solids, liquids and gasses by making chocolate buttons and honeycomb. We also poured water into a bottle with half a cup of sugar and washing up liquid to make the most amazing bubbles that could fly the whole length of the school field.
By Georgia, Maddie and Poppy